College Age Passes
Cliff notes: Use promo code BSMUDA On Your DRifter PASS
We went to college and learned how to save money and find the easiest way to do that. Look below on how you can save up to $30 on your pass!
$399 w/ Promo Code 'BSMUDA' (Save from $419)
(Mount Snow, Attitash, Crotched, Wildcat, Hunter, Jack Frost, Big Boulder, Roundtop Mountain Resort, Whitetail Resort, Liberty Mountain Resort, Mad River Mountain, Boston Mills Brandywine) Must be ages 18-29 to ski or snowboard with one of these.
13 Resorts - 1 Pass - 0 blackout dates
Price Available Sept 16th - December 18th 2019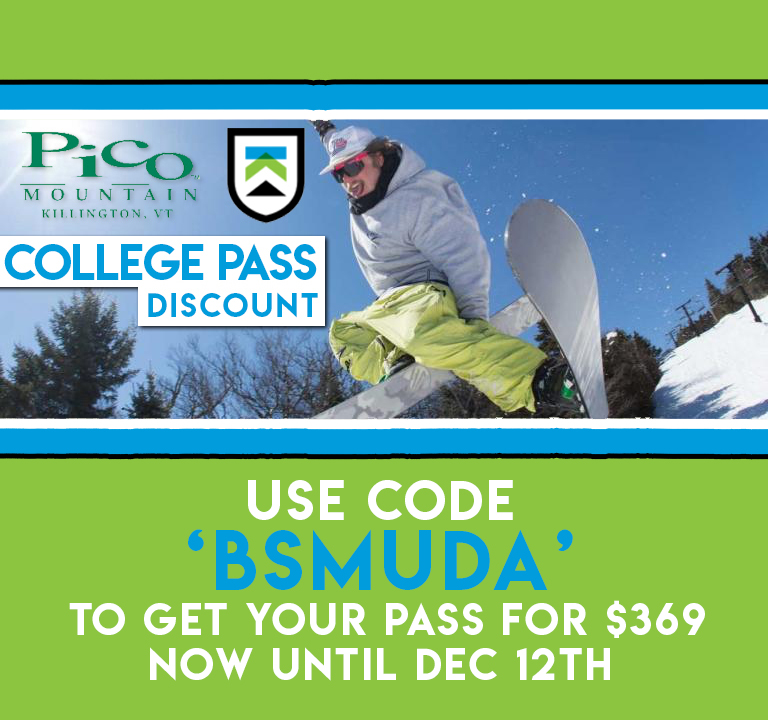 $369 ($30 OFF*) with Promo Code "BSMUDA"
Full-time undergraduate and graduate students for the 2019-20 school term get unlimited access to Killington Resort and Pico Mountain.
*$30 Savings will begin run from August 30 to December 12, 2019
Perfect for college students who can navigate a pass with restrictions. Pays for itself in just over 3 days!
2019/20 Season Passes On Sale Now!
College Gold New England Pass
Loon, Sunday River, Sugarloaf
College Silver New England Pass
Loon, Sunday River, Sugarloaf
Maine Student Sunday River Pass
Passes for Local Students and Teachers for Sugarloaf
Using promo code BSMUDA to get up to a $50 discount on ski and snowboard season pass to Mount Snow, Attitash, Crotched, Wildcat, Hunter, Jack Frost, Big Boulder, Roundtop Mountain Resort, Whitetail Resort, Liberty Mountain Resort, Mad River Mountain, Boston Mills Brandywine